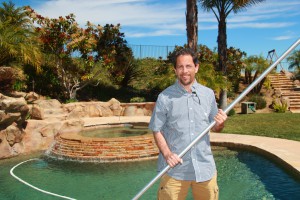 Evan Hersh and his wife Kim started Ever-Care Pools back in 1986 with the idea that service is the most important part of business and Cleaning your pool is just the beginning. Evan believes that honesty and communication are a necessary part of a good relationship.
Now, almost 30 years later, Evan has a great team to help him get the job done right, the first time. Although Evan is not a one man show any longer, you can count on him to answer your phone calls and emails. He knows how important it is to have a good relationship with his customers and that they can always count on him for his honest work. If you are looking for consistent, reliable and cost-effective work, you have found the right team to take care of all of your pool and spa needs.
Ever-Care offers a wide variety of services, repairs and products. They specialize in the installation and repair of salt and remote control systems as well as offering service and repairs on most brands of pumps, motors, cleaners, heaters, filters, lights, plumbing, and electrical, pool and spa covers, automatic pool cleaners, chemicals and much more. They can help with your pool remodeling project too.
Ever-Care Pool and Spa services these communities: Thousand Oaks, Newbury Park, Wood Ranch, Moorpark, Westlake Village, Agoura Hills, Oak Park, Calabasas and Camarillo.  We specialize in weekly pool and spa service and repairs. Pool Maintenance Areas
More about the owner:
Evan has lived with his wife Kim in the Conejo Valley for the last 24 years, prior to that they were living in the San Fernando Valley where the business originated. He has two daughters who he enjoys hiking and riding bikes with. When Evan is not working he makes time for his favorite past time, playing the guitar. He is also an active member at his church of 15 years, Community Christian Church of Moorpark. He is an elder, plays in the worship band, sings in the choir, and that's just the start. Spending time with his family is one of Evan's number one priorities.
Evan is committed to providing his customers with prompt and reliable customer service and quality products. The staff looks forward to meeting all of your pool and spa needs. To schedule a service please contact them by phone or e-mail. Evan will personally answer your questions. Please browse through the site to learn more about all of the services and products that are offered. Thank you for visiting Ever-Care Pool and Spa.
Sincerely,
EverCare Pool and Spa Service